English
Français
Русский
Türkçe
3576 supporters
---
To participate in other IUF campaigns, please
click here
.
Date updated : 08-Jul-2021
Status:
active
© 2022
IUF
Groupe Bel: Respect collective bargaining rights & end the strike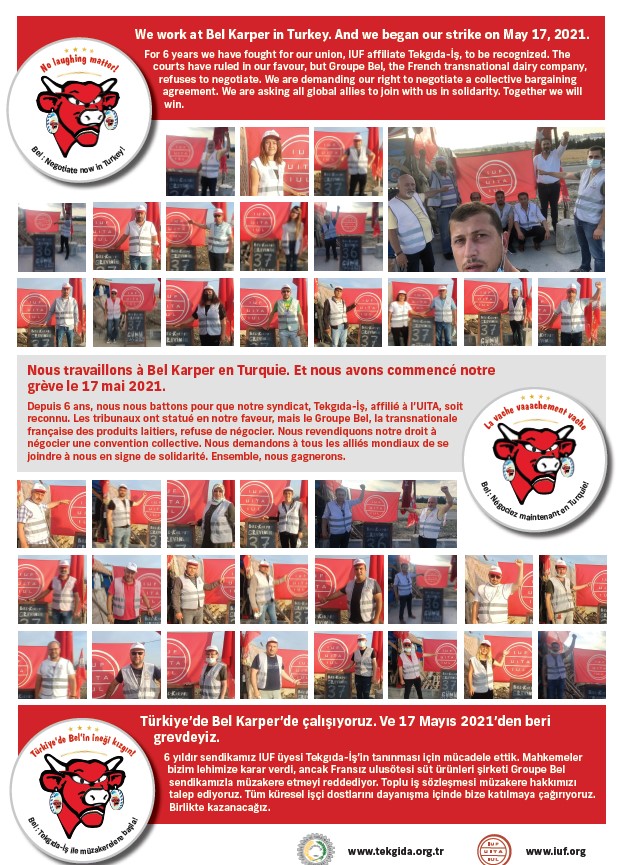 We work at Bel Karper in Turkey. And we began our strike on May 17, 2021.

For 6 years we have fought for our union, IUF affiliate Tekgıda-İş, to be recognized.

The courts have ruled in our favour, but Groupe Bel, the French transnational dairy company, refuses to negotiate.

We are demanding our right to negotiate a collective bargaining agreement.

We are asking all global allies to join with us in solidarity. Together we will win.

Please SIGN BELOW to send an email to:

Groupe Bel CEO, Antoine Fiévet: afievet@groupe-bel.com
Groupe Bel Executive Vice President, Cécile Beliot-Zind: cbeliotzind@groupe-bel.com
Groupe Bel Human Resources Director, Vincent Tarraube: VTARRAUBE@groupe-bel.com
Groupe Bel Greater Turkey Cluster General Manager, Aytekin Yıldız: ayildiz@groupe-bel.com

to demand that Groupe Bel begin negotiations with IUF affiliate Tekgıda-İş immediately.

Groupe Bel would never attempt such brazen union-busting in France. We cannot tolerate it in Turkey. We thank you for your support!

Solidarity,
Bel Karper workers, IUF affiliate Tekgıda-İş

PLEASE SEND THE MESSAGE BELOW AND THE IUF WILL ENSURE ALL MESSAGES WE RECEIVE WILL BE DELIVERED TO THE COMPANY.

YOUR MESSAGE WILL BE DELIVERED TO OUR CAMPAIGN ADDRESS BECAUSE FOLLOWING THE INITIAL RESPONSE FROM OUR SUPPORTERS BEL GROUPE HAVE NOW CONFIGURED THEIR SERVER TO BLOCK YOUR EMAIL PROTESTS.