English
Русский
5824 supporters
---
To participate in other IUF campaigns, please
click here
.
Date updated : 09-Sep-2019
Status:
closed
© 2023
IUF
This campaign is now closed.
Diese Kampagne ist abgeschlossen.
Cette campagne est close.
Esta campaña ha terminado.
Kampanjen er avsluttet.
Justice for Pearl Continental Hotel Karachi workers and their union - tell the government of Pakistan to respect the ILO and freedom of association!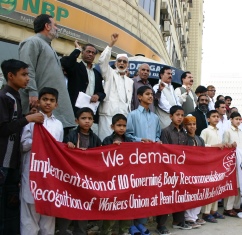 For 18 years, workers at the Pearl Continental Karachi have fought with unflagging determination for their collective rights and for recognition of their union - the IUF-affiliated Pakistan Hotel, Restaurant, Clubs, Tourism, Catering and Allied Workers Federation (PHRCTCAWF). The Committee on Freedom of Association of the United Nations' ILO this year again called on the government to respect ILO Conventions 87 and 98 on freedom of association and collective bargaining and act to ensure direct negotiations between the PHRCTCAWF and management of the hotel to restore rights and remedy years of brutal abuses.
The conflict began in September 2001 when management fired 350 casual workers at a stroke and derecognized the union. What began as a union campaign to defend the rights of casual hotel employees escalated quickly into an all-out management attack on the existence of the union and the physical well-being and safety of its members and officers. The union has defended its rights and the rights of its members with energy and determination through ongoing protest actions. It has won legal orders requiring the hotel to reinstate dismissed union members and officers, but management refuses to allow them to return to their workplace, and continues to block certification of the union as the workers' collective bargaining representative. Union members and officers have been dismissed, arrested, illegally confined, and denied their pensions. Still they fight!
Since 2003, the ILO has been calling on the government to rectify these violations of fundamental rights. Use the form below to send a message to the Prime Minister calling on his government to implement the decisions and recommendations of the ILO NOW and ensure direct immediate negotiations between the PHRCTCAWF and the hotel management to secure the rights of the Pearl Continental Hotel Karachi workers and their union.