English
Русский
9611 supporters
---
To participate in other IUF campaigns, please
click here
.
Date updated : 18-Oct-2019
Status:
closed
© 2023
IUF
This campaign is now closed.
Diese Kampagne ist abgeschlossen.
Cette campagne est close.
Esta campaña ha terminado.
Kampanjen er avsluttet.
Union President suspended at Cambodia's giant Naga World Hotel Casino for defending her members' right to bargain their wages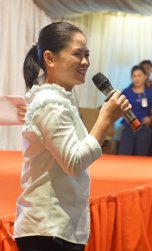 The 5-star Naga World Hotel Casino in Phnom Penh has 1,685 rooms and suites - but no room for the right of its thousands of employees to collectively negotiate their wages through collective bargaining - a universally-recognized human right.
For nearly two decades, the Labour Rights Supported Union of Khmer Employees of Naga Hotel (NHW) has struggled for rights and recognition against a hostile management. In May, 2019 the union launched a campaign to bargain wages for the first time and now faces a management backlash. Union president Chhim Sithar, who is also a member of the IUF Asia/Pacific Regional Youth Committee and IUF Women's Committee, was suspended on September 20 for allegedly breaching company rules after she assisted a union member being harassed by security over union materials in her bag.
On October 15-16, mass membership meetings of the union's more than 4,400 members unanimously confirmed their commitment to fighting Sithar's suspension and continuing their struggle for wage bargaining rights.
You can support their struggle - Use the form below to send a message to Naga World corporate management demanding the company rescind the union leader's suspension and bargain wages in good faith with NHW!