English
Русский
4007 supporters
---
To participate in other IUF campaigns, please
click here
.
Date updated : 02-Apr-2019
Status:
active
© 2022
IUF
Sentences served, Myanmar hotel workers leave prison - struggle continues for rights and reinstatement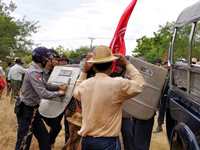 Six leaders and members of the HLOB union at Hotel Tharabar Gate in Bagan were released from prison on March 29 to an emotional welcome from family and union members after serving their full 30-day sentences. The six were tried, convicted and immediately
taken to prison
on March 1 after being arrested in December for attempting to lead a peaceful march to protest the brutal police destruction of their solidarity picket.
Their union has faced continual attacks since it was formed and registered four years ago. In August 2018, management terminated the union chairman along with 11 other workers, including two members of the union executive and 7 active union members.
HLOB continues to fight for the reinstatement of the union members and officers terminated last August and the 23 members who were terminated in December for refusing to cross the union picket in solidarity with the 12. In December 2018 the IUF lodged a formal complaint against the government of Myanmar with the ILO Committee on Freedom of Association.
The fight for reinstatement and recognition of trade union rights in one of Myanmar's key tourism regions continues - USE THE FORM BELOW TO SEND A MESSAGE TO THE GOVERNMENT OF MYANMAR! The government must rescind the unfair sentencing of the six trade unionists, ensure that Hotel Tharabar Gate reinstates all workers dismissed for defending trade union rights and enter into good faith negotiations with HLOB.