English
Español
Français
Русский
Deutsch
Nederlands
16894 supporters
---
To participate in other IUF campaigns, please
click here
.
Date updated : 07-Oct-2019
Status:
active
© 2021
IUF
Anti-union harassment and victimization escalate at AB InBev Sonepat India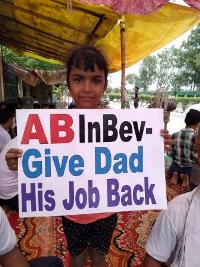 Management at global brewer AB InBev's plant in Sonepat, India is escalating its attacks on trade union rights. For the past three years local managers have refused to negotiate a collective bargaining agreement with the Haryana Breweries Limited Mazdoor Union (HBLMU) and opted for repression, suspending active union members and dismissing four elected union leaders including the president and the general secretary.
Management reneged on an agreement signed in August 2016 to reinstate victimized union committee members and escalated its attack on rights by dismissing union president Anil Kumar Saini on March 8, 2018 following a manipulated enquiry. Saini had used compensatory leave to attend an IUF AB InBev unions meeting in India, leave he acquired after being compelled to work 16 hours continuously on a public holiday.
When selective victimization failed to break the union's struggle for rights and recognition, management orchestrated a physical attack on a peaceful union protest on April 28 outside a Sonepat government office in which a union committee member was seriously injured. A false police complaint for alleged assault was then filed against union members which resulted in the arrest of the union leadership. The arrested leaders are currently free on bail.
AB InBev Sonepat workers and their families continue their 24-hour protest at the factory gate in support of their right to union recognition and collective bargaining free from harassment and victimization. USE THE FORM BELOW TO SEND A MESSAGE to AB InBev, insisting the company act to remedy its escalating human rights abuses by reinstating with full rights all dismissed and suspended HBLMU union leaders and members and withdrawing the false police charges against union leaders. Management at AB InBev's Sonepat facility must recognize the independent, democratic HBLMU and engage in good faith collective bargaining with the union.